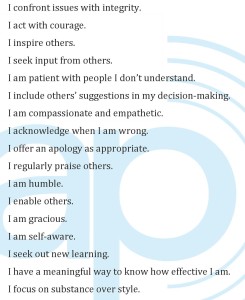 "Sharpen The Saw" — Habit 7 from Stephen Covey's 7 Habits of Highly Effective People focuses on self-improvement and the ongoing process of personal transformation. Continually examining self and how I show up in the world is exhausting. But it is necessary to effectively lead: families, organizations, and ourselves. In fact, the starting point for learning how to lead effectively is self-leadership. Ken Blanchard shares that "you can't lead others if you can't lead yourself, and you can't lead yourself without the right tools."
The Leader Within Self-Assessment  is a very practical tool that helps to identify the thoughts, behaviors and habits that require pruning, eliminating and those to learn.  It's simple, complete the sentence: As a leader I . . . The descriptions accurately or not describe how you think and behave. Celebrate your YES responses and keep up the great work. For the NO response(s), consider what you need to change in your heart and head that will affect the change in your words and actions. Resist the urge to edit with responses like "maybe/sometimes/most of the time". Challenge yourself to respond with the kind of integrity that is compelling i.e., yes or no.  NOTE: For a real challenge, self-assess twice: once for yourself as family leader and once for yourself as an organization leader.
The daily grind provides no shortage of opportunities for honest self-evaluation. The world is our classroom and our relationships and interactions create the impetus for us to learn. Our goal as leaders is to keep ourselves operating at higher levels where we are most effective and most powerful. The struggle is real, but the results are profoundly meaningful.
The Leader Within Self-Assessment